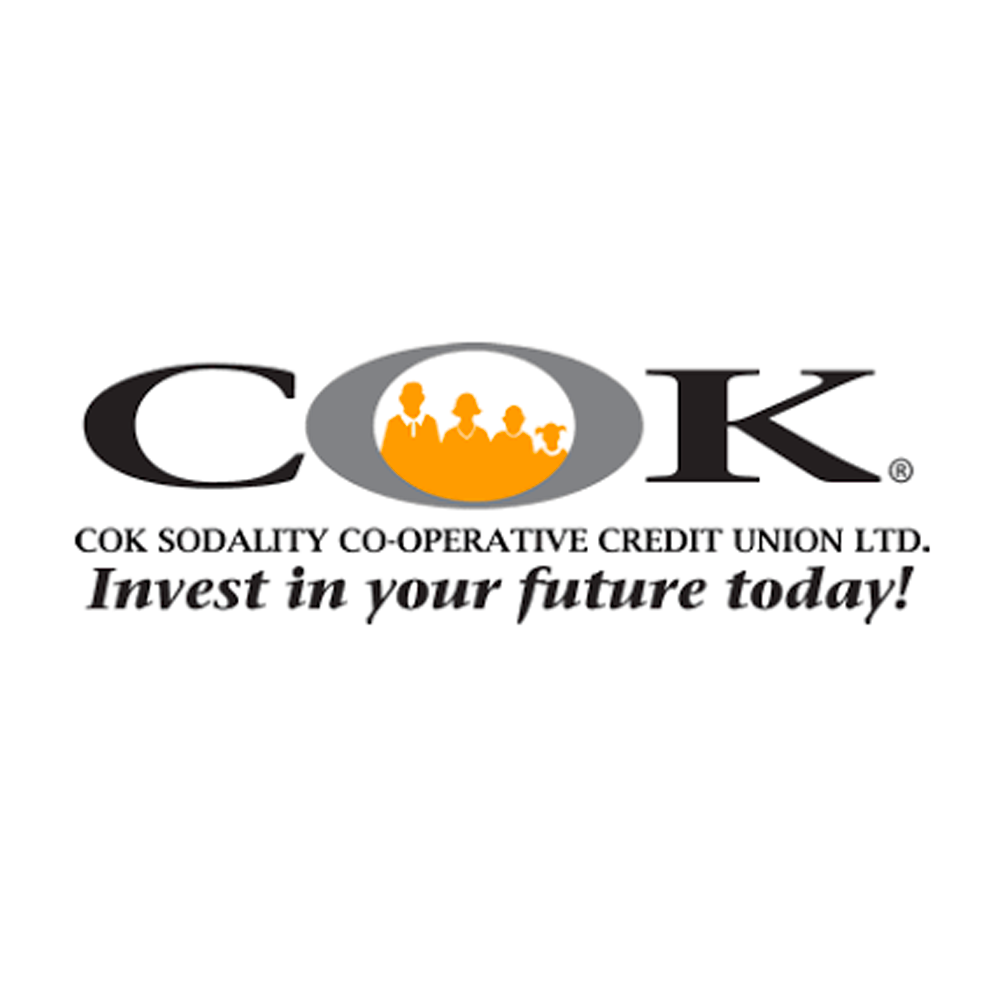 COK SODALITY CO-OPERATIVE CREDIT UNION LIMITED
"Invest in your Future Today"
With a vision ahead of its time, Albert Morris had proposed the concept to create an inclusive credit union for the citizens of Kingston. A credit union is a Co-operative financial institution, which is owned and controlled by its members.  His dream was finally brought to fruition in 1967, when Paul Chavannes submitted Mr. Morris' proposal to the Jamaica Co-operative Credit Union League (JCCUL) and the Registrar of Co-operative; which resulted in the birth of the City of Kingston Co-operative Credit Union Limited (COK) on October 26, 1967. With 13 members and a total share of two shillings and six pence the first Annual General Meeting was held on November 24, 1967. 
COK Sodality is a member of the Jamaica Co-operative Credit Union League, the trade association representing the interests of Credit Unions in Jamaica.
Click the links below to learn more about this amazing Credit union and its services:
Who May Join
Persons living or were born in Kingston and St Andrew

Persons living in other parishes that are related to someone born in  Kingston and St. Andrew.

Be a person of the catholic faith
Be living or working in Kingston and St. Andrew c. Employees of the Society
Other Cooperatives.
Relatives of members who qualify under (a) & (c), provided that relatives include mother, father, brother, sister, son, daughter, aunt, uncle, wife, niece, nephew and grandparents.
APPLY ONLINE NOW
Get in touch with us
We work closely with other credit unions in Jamaica, the Caribbean and across the globe sharing operational best practices. As the largest credit union in the Caribbean, we are looked upon as a model, with many of our procedures and products being replicated by other credit unions.
You can contact any of our branches through our call centre, by dialing: 1-876-960 – I CAN (4226)
……………………………
Opening Hours:
Cross Roads, Half Way Tree, Mandeville, Montego Bay:
Mondays – Fridays 8:30 a.m. – 2:30 p.m.
Portmore Branch:
Mondays – Fridays 9:00 a.m. – 3:00 p.m.
Cross Roads
Address: 66 Slipe Road,
Kingston 5, Jamaica
Fax: 876- 926-0222
……………………………
Half Way Tree
Address: Units 9&10,
Winchester Business Centre,
15 Hope Road,
Kingston 10
Fax: 876- 926-4631
……………………………
Portmore
Address:Shop#3,McMaster Centre,
Portmore, Jamaica
Fax: 876- 988-5157
……………………………
Mandeville
Address: Units 1&2, 8 Mandeville Plaza,
Manchester,
Jamaica
Fax: 876-962-0085
……………………………
Montego Bay
Address: 30-34 Market Street,
Montego Bay, Jamaica
Fax:876- 952-1334